Johnny Gimble's Music Camp is on hiatus.
Send us your contact info if you'd like to hear about future musical gatherings!

FIDDLE  •  GUITAR   •  BASS   •  MANDOLIN
  WORKSHOPS • JAM SESSIONS • LESSONS • PERFORMANCE
Play & sing with your peers & the pros!
CAMP PACKAGE AVAILABLE
Includes meals & on campus lodging.
HOT MUSIC in the COOL MOUNTAINS !
Surrounded by northern New Mexico's gorgeous Carson National Forest
---
I LIKE TO PLAY WITH JOHNNY BECAUSE:
"He's a genius, and he swings like mad, and every time I play with him I come away with a gang of great musical ideas I can steal and use in my own fiddling. Plus, Johnny just flat loves music.His love of music oozes out of every pore. Johnny isa shining light…a beacon, radiating brilliance of the swing fiddle legacy while adding to this legacy every time he picks up his fiddle. And I haven't even begun to talk about the impossibly wonderful things he does with his electric mandolin or his great sining'. Wow!"
– Paul Anastasio
"He looks even better when I play with him. He has more fun than the law should allow. He really means it! And of course, he really swings."
– Danny Levin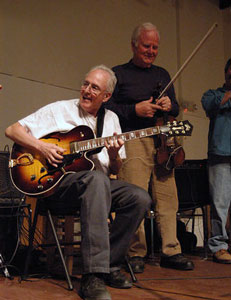 "It's fun. He inspires me to play the best that I possibly can."
– Ken Frazier
"When I think of what an awesome musician he really is…it's kind of scary. But playing with him is so much fun, and the music sounds so good… I forget to be scared."
– Dick Gimble
I'M PSYCHED TO BE A PART OF THE FACULTY
AT JG'S SWING WEEK IN TAOS BECAUSE:
"The faculty inspires me, the students inspire me, the air inspires me, the coffee is great, and people buy my books…"
– Dick
"The students are so open and appreciative of the information they receive. I love to see the light in their eyes when a new door opens and they starty to develop skills they haven't had before."
– Ken
"I love to teach because I learn so much. I don't really need any sleep – ever. It really improves my altitude."
– Danny
"Of all the music camps I've been to, Johnny's camp stands alone because of its wonderfully inclusive, encouraging and, most of all, loving vibe. Johnny and the rest of the fine staff bend over backwards to make everybody feel: 1. That they CAN play swingin' music and, 2. Because western swing music is spelled F.U.N., that they can have a whole lot of fun playing it. The instructors at Johnny's camp all really respect one another, and their sincere love of music and enthusiasm are contagious. It's my favorite camp, and I'm honored to be a part of it."
– Paul
from PARTICIPANTS:
"The summer camp changed my life. It motivated me to explore new facets of music that I had never thought of exploring. It allowed me to realize that behind every song is a story, and it is our job to tell the story with out voices and our music."
– Phoebe Hunt, TX Came to camp as part of The Hudson's, Now tours with Bellevue Outfit.
"In all of my long and checkered sojourn on this earth, I've never enjoyed a week any more than I did at your camp..found nothing but goodwill, kindness, friendship, great music…Thank you mightily, all over the place, from here to yonder, from every angle in all directions!"
– Paul, TX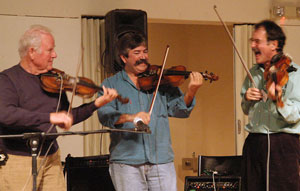 "Johnny, I have records of yours from many years… not one sounds as good as you sounded last night. All of your students, including those faculty on stage with you are still learning. You are so smoth, graceful. You fill the space with that certain something. Thank you for everything!"
– Gary, CO
"Besides the sheer fun and great music, the most notable characteristic of the camp was the spirit of encouragement and absence of competitiveness between the musicians that made it possible for a duffer like me to enjoy the experience. Johnny exudes this attitude, and it's one of the main factors that attracts me to the Texas swing music."
– David, TX
"…this camp was a real breakthrough for me. I finally began to hear some things, the kind of things 2nd nature to Johnny & the faculty. I started not to attend the last late jam session next door, but thought I would hit a few licks and check out early. That's when the doors to my mind started opening, just a bit, but enough that I was there until 3AM and it was a near religious experience.
I've got a ways to go, but many pieces of the puzzle fell into place."
– Doc, TX
"I told my local music friends it was like drinking from a fire hydrant – lots to learn from a deep source."
– Brode, AR
"The week was the best money I ever spent. I don't play any better, but by golly I think I do."
– Carroll, TX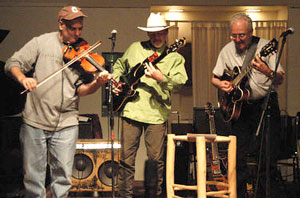 ".. a memory I'll treasure forever. I learned more than ever before during that week. I'm playing a lot smoother and I feel where I should be going with it. I really had a ball."
– Judd, MN
"Being with you ( Johnny & Barbara) is electricity to our souls."
– Doug & Bunny, SC
"You have no idea of the impact you have had on my life! Thank you for introducing me to so many new people, and such an interesting and wonderful style of music!"
– Amanda, TX
"It was truly one of the most rewarding experiences of my life. Spurred me in to spending more time with my fiddle, guitar and mandolin, which I have neglected over the years…"
– Don, TX
"I used to say ' I ain't never had too much fun' – I may have to rethink that one now."
– Steve, TX
"..thanks for putting on a most memorable week of great music in a fantastic setting."
– Tom MN
"…you may not realize the significance,,,your family provides by creating such a wonderful environment to our enjoy our passion – MUSIC!"
-Ginger, NM
"…it was great. More than I came for I got."
– Bob, NM
"…a major stretch for me…a real blast!"
– Scott, NM
"..the most fun I've had with my music in a long time.My ad lib improved greatly. At camp he (Johnny) showed me that augemented lick that he hits a lot – he told me…his fingers kinda lay down easy. One day, I'm gonna get it."
– Travis, TX
"What a great bunch of people to hang out with…"
– John, TX
"..one of the most inspiring events …I learned a lot and have not put my fiddle down since…was honored to hear Johnny in person.
I appreciate so much the willingness to "just sit down and talk" or freely discuss technique or 'whatever."
– Ricky, TX