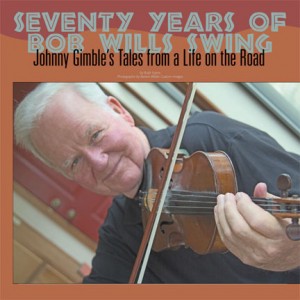 Nearly seventy years of fiddle playing have taken Johnny Gimble to stages and studios all over the world, a life rich in magical memories with artists who constitute the history of American popular music. He's performed with everyone from Louisiana Governor Jimmie Davis (composer of "You Are My Sunshine") to jazz clarinetist Pete Fountain; from country pioneer Floyd Tillman to country arena-filler George Strait. He even once played fiddle on a Paul McCartney track (his then teenaged daughters were pretty excited about that one).
But as I sit in Johnny Gimble's kitchen, talking with him about his musical experiences, who is the one performer he's most star struck to tell me about, the one whose playing literally gave him goose bumps? Svend Asmussen from Denmark, "the best fiddle player in the world."
It had taken us a few hours, though, to get around to talking about Asmussen. Gimble first had quite a lot to say about another fiddler; the man who had given him a place to play, the one who had taken his career to the proverbial big time way back when.
Bob Wills, in fact, was the big time, a larger than life figure and greatest star of the southwestern United States, well before Gimble had first crossed paths with him in the nineteen-forties.
Wills had a big grin, a big band, and a big sound. Western Swing was what they called it. It was of the people and of the country, but it wasn't really country music. The sound, forged in the early nineteen-thirties by Western Swing's creator, Milton Brown, and his bandmate Bob Wills, owed as much to Dixieland jazz as it did to Dixie itself.
Twin fiddles and a steel guitar were integral parts of swing's signature sound, but not in a way that resembled the music of the rural south that had preceded it. This music swung. It was for dancing, and just a few years after the explosion of jazz, Bob Wills brought to swing all the improvisational spirit of the jazz form.
"I remember playing dances where I thought, 'Boy, we are swingin' tonight,'" remembers Gimble. "And when (Wills would) step on the bandstand, boy, we were twice as hot."
Swingin' in the beginnin'
The hot sound of Western Swing had caught on and established itself quickly in southwestern culture by the time it reached Johnny Gimble on a farm just outside the northeast Texas town of Tyler. Gimble was born in 1926, and he and his four brothers were already playing and performing as a young swing group by the late nineteen-thirties, around the same time that Milton Brown was killed in a car wreck and Bob Wills had begun building a radio audience with the Light Crust Doughboys. The Doughboys' very existence served as radio advertising for Burrus Mill's bread by the same name. It was good advertising. (The Light Crust Doughboys, by the way, are still on the road today, some seventy years after Wills departed to form his Texas Playboys.)
By his teens, Gimble would also become part of a similar promotional group, playing tenor banjo in Jimmie Davis' campaign band as he ran for governor of Louisiana in 1944 (he won). Shows with the Shelton Brothers, among others, would take him all over Louisiana, exciting stuff for a seventeen-year-old kid. After two years in the service, Gimble returned home to Texas, forming a new group with his brothers-The Blues Rustlers-who took to life on the road throughout southeast Texas, playing dances and radio stations in and around Houston.
Another brother had moved on to Austin to attend the University of Texas. That was Gimble's intent, too, but his Austin education would actually take place just a few miles south of the university campus. "When I saw the long, long line for registration, I went over to the radio station and visited a band that was broadcasting." Jesse James was a singer who had a daily show at noon on KTBC radio. The timing was good: James needed another fiddle player in the band so Gimble filled the slot. After a short time there, Gimble moved on to Corpus Christi to play with the Roberts Brothers and the Rhythmaires, with whom he shared a connection thicker than swing. Johnny would soon marry Barbara Kemp, whose great uncle Buck was one of the Roberts Brothers. (The further swing in the family tree, by the way, is that Buck's grandson is Jason Roberts, fiddler extraordinaire in Ray Benson's Western Swing band, Asleep At The Wheel. To top it off, Jason Roberts is portraying Bob Wills on stage in A Ride With Bob: From Austin to Tulsa. See accompanying article.)
Playin' in the big league
The Rhythmaires worked the state, like so many swing bands were doing at the time, but there was only one band whose name was always bigger than the dance hall's when they hit your town. Gimble remembers that band's impact well. "I saw a jukebox in San Angelo in a restaurant. They had one of those table jukeboxes, a Wurlitzer. It had twenty records on it. Twelve of them were Bob Wills."
gimbleBob Wills and His Texas Playboys reached far beyond San Angelo. They were nationwide, "on every jukebox," as Gimble recalls. "Everything he recorded, if you were playing in a band, you had to learn it. Because it was all dance music and that's what they'd ask for."
Gimble first saw Bob Wills and the Playboys perform in Longview in 1946. "It was like a glimpse of glory." He got acquainted with Playboy and mandolin player Tiny Moore, an important relationship that would soon change the course of his life.
Two years later, The Rhythmaires had a dance hall gig at Corpus Christi's Tracadera Club the same night that Bob Wills and band were playing a concert in town. In the spirit of cowboy camaraderie, various Playboys came over to the club after their concert so they could finish the dance with the Rhythmaires. And Tiny Moore had a question for him: "Would you be interested in auditioning for the band?" Gimble's answer came quick. "If I was out in the back of the house playing sandlot baseball and you asked me if I wanted to go play for the Yankees, what would I say?"
Eldon Shamblin, Playboys guitarist and band manager, tracked Gimble down at the radio station where the Rhythmaires often played. "They were on the road somewhere, and Bob was in the hospital recovering from a long drunk in Fort Worth," says Gimble. Shamblin arranged for Gimble to audition in Austin.
Gimble and his new wife headed back over to the state capital. His years on the road in southeast Texas and Louisiana were nothing compared to what lay ahead. "I had a '41 Dodge funeral limo, I bought it from a funeral home in Austin, a really good band car for a small band. We'd just gotten married. We had everything we owned in the backseat of that Dodge, everything that matters." Telling me this, he nods across the room toward Barbara, and adds, "that same woman."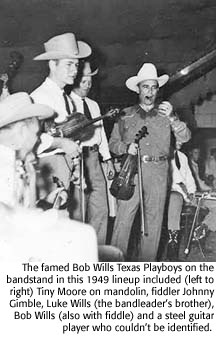 Gimble's audition was from the stage at a joint northeast of town. "Dessau Hall was the gig. It was the place. They had all the big bands come out there to play. It was great big and there was trees growing up through the ceiling. So that's where I auditioned. I just sat in with the band." There was no interview, not even any personal contact with Wills at that point.
Shamblin told him what hotel the band was staying at in Waco for the next gig. Johnny joined them onstage again, not yet certain of whether he even had the job. "Bob told the audience, 'There's a little fiddle player in the house tonight. The boys have hired him and they say he's good. Well, he'd better be!' Of course, I was nervous enough."
The onstage acknowledgment from his new boss had made it official. He'd been hired over the microphone.
Wills' philosophy
The young Gimble was already a seasoned pro on the mandolin and fiddle by the time he joined the Wills band, but playing with them would bring plenty of new lessons. The most important one was to understand the rules (and the absence of rules) for jazz music.
"I asked Tiny when I was auditioning for the band, I said, 'What does Bob want, how does he want us to act?'" Moore's answer would recall his own audition for Wills. "Bob played one of his old fiddle tunes. (Tiny) was surprised everybody was getting a solo. Bob pointed at Tiny and Tiny played the melody. And he said Bob came over and said, 'Son, when I point at you, I want you to play all you know, and if you wanna play the lead, go ahead.' He wanted you to play whatever you felt. This is what jazz is all about."
Bob Wills liked jazz. He'd once ridden a horse fifty miles just to see his favorite singer, jazz and blues innovator Bessie Smith. The jazz influence could be heard in everything he did, and bringing it into the world of country music would become his greatest contribution.
Playing with the Wills band, there were certainly plenty of songs that were played every night at dances, but the jazz tradition always left plenty of improvisational room. The Texas Playboys' signature song, "San Antonio Rose," was played about four times a day. "It was the theme on the radio and we'd always play it a couple of times for them to open a dance," says Gimble. "Eldon called it 'Theme Number One.' When it was for dancing, it would have a real bright tempo."
Hot dance numbers were actually played twice, with Wills conducting a song to an abrupt conclusion, then quickly counting, "two, three, four." Without missing a beat, the boys would launch into it again, keeping the dance floor full and the song alive and swinging. The audience didn't know. They just kept dancing.
Gimble speculated that the song repetition was designed to allow dancers to change partners, but he also recalls Wills' own explanation. "Somebody asked Bob one time why he always did that. He said, 'Well, I grew up on a farm. When you plow down to the end of the road, you gotta come back.'"
Head arrangements
Playing in the big league would turn the young man into a great mandolin and fiddle player. He'd already had the passion and the chops; playing with the Wills band would instill originality, diverse technical skills, and collaborative creativity. Other memories from the road illustrate those attributes developed over time, not just for Johnny Gimble, but also for Western Swing itself.
Jazz and swing standards like "I Ain't Got Nobody" took on new life as Bob Wills and the boys breathed Western life into it, with their own Texas touch. Gimble well remembers Wills' democratic encouragement, allowing each member into the creative process.
Wills would tell the boys to work out their own solos-but duos, trios, and quartets were just as welcome into the middle of a number. Different combinations of band members created three- and four-part harmonies, laying instruments above and below the melody like voices in a church choir. But this wasn't Sunday morning, it was Saturday night, and filling the dance floor was always the goal.
When the boys would pull off an improvised arrangement, Wills always called it the payoff. The boys in the band called it a head arrangement. This was music made up quite literally on the road between gigs, so very little was written down. "One night we did something we had done for about a week or so, every night, but we had never gotten all the way through it," Gimble says. "We had a good crowd dancing and we did that tune, went all the way through it without any mistakes, it was just perfect. All of us were real excited, and I hollered at the audience, I said, 'That's four parts!' Eldon just shook his head and said, 'They don't give a shit!'"
Gimble laughs as he shares many stories from the Bob Wills years. Most of his memories of the man who changed his life are warm and musically inspired. But Bob Wills had a demon that Western Swing alone couldn't cure.
The bottle
Johnny Gimble got off the road for a while in the late fifties. He had a wife and a kid, and a day job made better sense. The world-class musician with no showbiz ego moved to Fort Hood to start a civil service job.
His boss's battle with alcohol was something that every Playboy was well aware of, and it was easily the thing Gimble missed least about life with Wills. But when Bob Wills and the Playboys made Dallas their home base, Gimble moved his family up there and rejoined the group.
By that time, Wills had at first seemed to have his battle with the bottle under control. But much like the other great artist of the time, Hank Williams, Bob Wills was a binge drinker. You never knew when he would fall off the wagon. And when he did, he hit the ground hard.
Wills was well aware of his own problem, and he wasn't happy about it either. The band had fallen into a pattern of playing on the radio Monday nights, then playing gigs within a few hundred miles over the next few days, then on the weekend they'd play Wills' own joint in Dallas, the Bob Wills Ranch House.
But there was another pattern that nobody could control. "He was killing himself and killing his business," remembers Gimble, with sadness in his eyes for memories still clear. "I remember on a Monday night after the radio show, he said, 'Okay, fellas, I need to talk to you. I know I haven't been being carrying my share. We've got three weeks booked, and I know y'all need to get on the road. I've got three weeks of good guarantees.'"
On Tuesdays, they'd hit the road again-and their leader would hit the bottle. "A lot of times, we'd leave out Tuesday, we'd go around to Waco and San Antonio. He'd make the first dance where he'd be good for about twenty minutes. Then we wouldn't see him until Friday night."
Keeping Bob Wills away from his own gigs was sometimes for the best. It was still the greatest show band in the southwest. And there were times when he was along for the ride but not the dance. "He'd have to have a babysitter, mostly whoever was driving for him."
One night at a California hotel, that unenviable job fell to Gimble. "I went in there, Bob was drunk, passed out, a pint of whiskey, about half of it gone. They had twin beds and I stuck that whiskey between the mattresses. He cussed me and said, 'What'd you do with that (bottle)?' I said, 'You can't have it, Bob. You're killin' yourself.' He said, 'Well, you little smart ass, I'll fire you!' I said, 'I wish you would, I got a wife and kid back in Dallas. I'll find a way to make a living.' Then he threatened to whip me. I said, 'I never could fight, Bob, I'm sure you could whip me.' Everything he'd say, I'd agree with, and I even got him to eat something."
Seven grueling hours brought the usually upbeat musical hero back to his sober and good-hearted self-until during the night he found the hidden bottle. The next morning, Gimble was back on duty in Wills' room. Upon seeing the previous night's babysitter again, Wills had a fit and made clear his need for another drink. "I went over there, took that cap off, left the door open so he could see it and I just poured it down the commode. Boy, he really was mad then. But we went through the whole routine again. And it was interesting. He told me some stories about playing dances back in the twenties. That night I just stayed with him. I told him, 'Bob, I'm your valet today, I'm gonna stay with you.' So I did. He got ready and we went over to Bakersfield and he tried to play. He always drank coffee first. He was shaking. He tried to play a few tunes and got the dance started. It was real strange."
By the end of the night, Bob Wills was thankful to be swinging with his boys, but he had special thanks for one Playboy in particular. "He started to leave and he came over and said, 'Son. I want to thank you.' I said, 'You're welcome. It sure is good to have you back in time tonight.' It wasn't ever mentioned again."
That experience gave Gimble a new perspective of the complicated man with the positive musical message. "He had surrendered to preach when he was seventeen years old, and he was out of fellowship all this time. He was miserable. In fact that's what he told me that night I stayed with him. He said, 'The Lord's been testing to me. I know it.' So he had that to contend with."
When Gimble left the band a second time, Bob Wills was instrumental in finding his fiddler more work with other swing outfits. For a time, Gimble even left music altogether, moving to Waco to become a barber. He'd learned a lot from Wills, from the Playboys, from the dancers on the floor, and from the freshness and vitality of Western Swing itself, a music rich in melody and spirit.
But he would soon find another musical setting in which his gift for jazz-inspired improvisation could be heard by music fans of all types. That gift, along with skills he'd developed on the never-ending road of towns and dance halls with the Wills band, would also take him to the top of his field.
Nashville sound
"Johnny Gimble is one of the greatest musicians that ever lived. He's up there with (legendary violinist) Stephane Grappelli and all those great jazz players, and I'm his biggest fan." That's Willie Nelson talking, after a gig in Austin in early December.
Just like his future friend Gimble, Nelson's own remarkably diverse career had also begun in Texas as a child in the thirties and forties, one who'd been transfixed by Bob Wills music on the radio. That love of Western Swing first brought them together in the late fifties when Gimble was hosting a local TV show in Waco featuring live music. He hired Nelson to fill in on bass for the house band. (Nelson would return the musical favor many times over in future recordings of his own.)
Both men would eventually be drawn to Nashville in the nineteen-sixties. That was where the business of music happened, where stars and records were made. For Johnny Gimble, he just wanted to raise a family and make music. His Western Swing reputation had preceded him, and his sunny and kind-hearted disposition was a perfect mirror of the joy found in his fiddle licks and mandolin mastery. It was no wonder that work came pretty easy for him. He was soon playing for darn near every musician in town.
Gimble's a little more humble about his own employability. "I guess how I got sought after in Nashville was by trying to play exactly what the producer, the bandleader, and the artist (wanted). You got three bosses, and you just try to do what they want."
He also attributes much of his success to pure luck. "You got to be lucky. That's the way the music is. I tell those young musicians when they want the advice I'd give them, it's play every time you get an opportunity and be real lucky. If you're not lucky, you're not standing in the right place at the right time."
Sometimes producers wanted him to re-create the Bob Wills sound in the studio, which reminds him of an illustrative Nashville story in which recording artist Bobby Helms had accused the legendary country crooner Ray Price of stealing the same type fiddle sound for his record. "Helms says, 'What do you mean stealing my fiddle style for your sessions?' Ray Price said, 'What do you mean your fiddle style? We both stole it from Bob Wills!'"
And Gimble can define that style's distinction quite succinctly: "The difference is it's just solo single string fill-ins. When you're playing a shuffle beat, it don't swing."
But he did swing, on hundreds of sessions through the sixties and seventies with country artists like Merle Haggard, folk performers like Joan Baez, and jazz greats like Boots Randolph. Nashville appreciated him. The Academy of Country Music named him Fiddler of the Year nine times, and the Country Music Association named him Instrumentalist of The Year 1975 to 1979 (there were a few Grammys in his future, too).
He was writing his own songs, too, one of which indicated his favorite spot on the map, far from Tennessee ("I wish I was sittin' right under the X in Texas / Right in the heart of where my heart must be.")
In the mid-sixties, even Bob Wills was recording in Nashville. And in encounters with his old friend and mentor, Gimble passed a few of his own songs on to the old man who did indeed record them, their composer is proud to report ("Somewhere South Of San Antone" and "I Needed You").
It was somewhere North of San Antone that was really home, and by the late seventies, the Gimbles were Texans again, living and working in Austin. Since that time, Gimble has worked with pals like Willie Nelson, Western Swing torchbearers Asleep At The Wheel, and he's fronted several versions of his own band. He has proudly shared the stage with various reunited versions of The Texas Playboys, most of whom never lost the love for performing the inspiring music they'd helped to create. Studio work has still been there for Gimble, too, since Austin became its own musical melting pot, one with a greater sense of musical diversity than the more formulaic Nashville sensibility.
You can hear it in the distinctive Johnny Gimble jazz lines in iconic Austin blues singer Toni Price's take on the jazz classic, "Comes Love." And Gimble is believed to have performed on more episodes of Austin City Limits than any other musician. When musicians, Texans or otherwise, are in town taping for the acclaimed show, Johnny Gimble makes for a great addition. There's room for a little Bob Wills swing in most music, really.
Playin' in a family band
"Bob (Wills) had a convertible Ford, never had a convertible Cadillac. After a Playboys gig, people were having us sign everything. When I signed a dollar bill, I signed it George Washington!" says Gimble from the stage outside Guero's, the South Congress restaurant where he and his band, Texas Swing, have a monthly gig (last Thursday, 6-9pm). Along with his other bandmates, he's got son Dick on bass and granddaughter Emily on piano and vocals. It's a family affair, swinging through three generations, and the set list is part Wills, part Gimble, and all for dancing.
Three songs in a row ("Miss Molly," "You Don't Know Me," "Sugar Moon") were written by the premiere songwriter of Texas Swing, Cindy Walker, the pride of Mexia. Mexia rhymes with, well, nothing really, which reminds Johnny of a joke worth telling from the stage.
"Y'all know where Mexia is? About forty miles east of Waco. It's spelled M-e-x-i-a. So this Aggie feller was ridin' with a Texas feller. Texas feller said, 'Look on the map there, how far are we from Mexia?' The Aggie looks at the map and says, 'I don't see any Mexia.' 'M-e-x-i-a, over there, east of Waco.' So he looked at it and said, 'MEX-ee-uh is the way you pronounce that.' He said, It's spelled that way, but they pronounce it muh-HAY-uh.' So they got a bet up. They pulled into a place and the Texas guy asked the waitress, 'I want you to tell this feller the name of this place, right here right now.' She said, 'Day-ree-queen.'"
He takes the lead vocal on the next song, another of Miss Walker's classics, one with lyrics perfectly suited for Johnny Gimble: "When they were in diapers you were standing center stage / Don't be ashamed of your age!"
As he approaches eighty, Gimble still enjoys playing live, and has as much fun as anybody at the gig, but it's not like it was. He had a series of strokes on Christmas Eve, 1999. His fingers still know what to do with the fiddle, but they're a little slower out of the chute. "It's just a fight. I try to play 'San Antonio Rose,' it sounds sour to me," he says bluntly back at the house, with a touch of sadness. "People say, 'Oh, you sound great!' I know better." But moments later, he makes another, more hopeful declaration. "It's still fun. I look forward to the next gig. I don't exactly dread 'em."
Svend swing
Right after talking about the relative fun of his own gigs, Gimble takes the conversation, with childlike enthusiasm, to his several encounters with Svend Asmussen, "He's the best fiddle player in the world. He lives in Denmark. Goosebumps. You'd be amazed at how he plays; he's better than all of 'em."
He first met Asmussen at a taping of the TV show, Hee Haw, and later got to actually jam with him at the Austin City Limits studio. Johnny hums the Asmussen improvisations to me from the time they played "Up A Lazy River" together. "He just swung harder than anybody. He took over without being obtrusive at all. He was amazing."
It can be argued, of course, that I'm learning of the world's greatest fiddle player from the true world's greatest fiddle player. A subjective argument, I know, but there are plenty of recordings worth a listen for anybody to reach his own conclusion (if ranking players even matters). But whether judging greatness or not, one thing's for sure: Hearing Johnny Gimble's swinging fiddle is a guaranteed good time. It's why Bob Wills hired him in the first place.
Rush Evans got to see the Texas Playboys perform in 1978 at the Austin City Limits studio. After the show, he got Johnny Gimble's autograph on a small piece of cardboard. You may e-mail Rush at revans@goodlifemag.com.
Bob Wills at One Hundred
How to Celebrate a Century of Swing
You can see the Grand Ole Opry in Nashville, Tennessee,
It's the home of country music, on that we all agree.
But when you cross that ol' Red River, hoss, that just don't mean a thing,
'Cause once you're down in Texas, Bob Wills is still the King.
-"Bob Wills Is Still The King" by Waylon Jennings
Bob Wills is still the King, with thanks to players like Johnny Gimble keeping his music alive and swinging. Wills was born in the Texas Panhandle town of Turkey on March 6, 1905, so it's only fitting that his one hundredth birthday be honored with swinging celebration.
One way to celebrate in Austin will be right downtown at the historic State Theater, where a new musical play about Wills' life will make its world premiere: A Ride With Bob: From Austin to Tulsa. It's a musical drama in two acts about the life and music of Bob Wills co-written by Anne Rapp and Asleep At The Wheel's Ray Benson, and was based on an idea from Austin writer Sarah Bird about taking the audience on a tour-bus ride as Wills shares with Benson his memories of his life on the road. The drama will include, logically enough, a dozen performances of Bob Wills songs, and will be followed by an Asleep at the Wheel mini-concert. The performance will run nightly from Thursday, March 3 through Sunday, March 6. Tickets will be available through www.austintheatre.org and www.gettix.net. (Check for other ticket updates through http://www.asleepatthewheel.com.)
Any weekend at the legendary Broken Spoke on South Lamar is a form of tribute to Bob Wills, who himself graced the dance hall's stage three times in the sixties. Owner James White remembers booking Wills' first Spoke appearance as though it were yesterday. After telling the joint's regulars that the one and only Bob Wills was coming to play, they simply didn't believe him, or at least they were certain that he wouldn't show up. "About that time, the door opened. Bob Wills opened it up, he had his cigar in his mouth, his fiddle in his hand, and a cowboy hat on, and all those drunks at the bar and at a table, there was just a complete hush," remembers White of that night in 1966. "It was just the biggest thrill of my life to walk Bob Wills up on the Broken Spoke bandstand. I can still visualize him right here."
On Wills' birthday weekend, White and the Broken Spoke will host Austin honky-tonk hero Cornell Hurd on Friday, March 4, and Western Swing fiddle master Alvin Crow on Bob's actual birthday, March 5. That's as it should be. Don't be surprised if James White joins Crow on stage to tell a few stories about Wills between tunes. In fact, "you can almost bet your boots on it," he says. (Speaking of boots, White has Wills' black alligator boots on display in the Spoke's "Tourist Trap Room," along with a sixty-year-old, half-smoked Bob Wills cigar-honest!)
For the addicted, ten-hour-road-tripping Western Swinger (it's a two-step program), the festivities can carry over into the next month, when Turkey, Texas hosts its annual Bob Wills Day event, last Saturday in April each year (April 30 this year). It's a swing-packed weekend of music and fun, and there's even a Bob Wills Museum right by the high school, and a fiddle monument as you hit the city limits. This year, some surviving Texas Playboys will play the dance on Friday night, and Jody Nix (son of the Wills contemporary and swing bandleader Hoyle Nix) and his Texas Cowboys play Saturday night. For more information on Bob Wills Day, call 806-423-1253 or Turkey City Hall at 806-423-1033.
The Texas Music Office has had fun taking ideas on its web site from Western Swing fans across the state about how best to celebrate a century of Bob Wills' music. Check it out, post your own idea, and by the time you read this, some of those thoughts may have become reality. Just go to www.governor.state.tx.us/divisions/music/bobwills.htm.
You'll see that your fellow Texans have plenty of soul when it comes to championing their state's richest commodity.
Well if you ain't never been there, then I guess you ain't been told,
That you just can't live in Texas unless you got a lot of soul.
It's the home of Willie Nelson, the home of Western Swing,
And he'll be the first to tell you, Bob Wills is still the King.
-Rush Evans
P.O. Box 4400, Austin, Texas 78765
Voice: 512-236-1618 Fax: 512-474-5725
E-Mail: hello@goodlifemag.com