Here is an article from the archives of the defunct The Morning Rooster, "your morning internet 'cock-tale', an online newspaper. A fellow, Austin Troxell, who came to camp wrote about his experience at Swing Week 2003.
Great text & photos! – Cyndy Gimble
For years, whenever someone would mention "Taos, New Mexico", I'd think 'Oh yeah, that's the touristy artist colony where all the old hippies hang out, along with assorted strange people dressed in ragged clothes who walk down the streets going nowhere and talking to themselves.'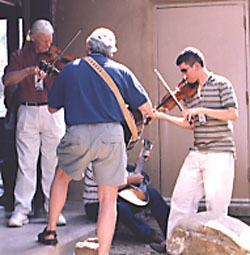 Well, after a recent visit, I learned that, while all of the above is true, I have another item to add to my list of Taos attractions: Swing Week! Swing Week, held on the hilly, wooded grounds of Southern Methodist University's Fort Burgwin campus just south of Taos, is a 5-day celebration of Western Swing Music. Rather than being a music festival, Swing Week is actually "a camp for musicians," a total immersion in a uniquely American musical genre. A Western Swing Group performs during 'Swing Week.'
This year marks the third year that Swing Week has been held and the first year that it's been held in the Taos area. Previously, the camp had been held in Waco, TX, but it was decided that Texas in July was a little too toasty.
For those not familiar with the term, "Western Swing," think of it as a combination of big-band jazz, blues and fiddle tunes mixed together with an insistent rhythm that just makes you want to "git up 'n' daince," as they say in Texas. It's country music without the "hurtin' and leavin,'" without the guns, tears or trucks.
Tuning up in semi-solitude Western Swing was invented (if any form of music can be thought of as being "invented") in the 1930s by Bob Wills. Bob was a dirt-poor Texas native who was taught fiddle by his father. Very early on, Bob decided that playing music was an easier way to make a living than picking cotton, and for more than 40 years that's exactly what he did.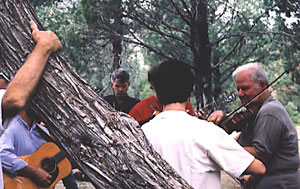 During those four decades, Bob Wills and His Texas Playboys wrote and popularized tunes such as "Take Me Back to Tulsa," "Faded Love" and "San Antonio Rose," all peppered with Bob's unmistakable shouts of "Ahh Ha!" and other ad-lib comments directed at his band or audience.
The musical legacy of Bob Wills has been carried into modern times by performers like Asleep At The Wheel, Merle Haggard, George Strait and one of Bob Wills's former side-men, Johnny Gimble.
Johnny's been playing fiddle and mandolin for more than 60 years and has been on hundreds of recordings by artists diverse as Willie Nelson, Loretta Lynn, Dolly Parton and Paul McCartney. You may have seen Gimble in one of his many appearances on Austin City Limits or as part of "The Million Dollar Band" on Hee Haw (admit it; you watched it!) which also featured Chet Atkins, Jethro Burns, Boots Randolph and others.
Johnny, the Grammy-winning legend, is the man behind Swing Week and he was present everywhere during the week, from greeting newcomers at registration, playing fiddle under the trees with an impromptu group of students to conducting workshops by day and giving evening performances each night.A trio joyfully sings for the other Western Swing campers.
Swing Week is truly a family affair, in that not only is Johnny intimately involved in the school, but so is his wife, Barbara, as well as his daughter Cyndy and son Dick.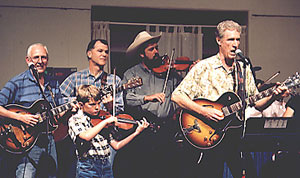 Cyndy Gimble is the tireless organizer and go-to person behind Swing Week and Dick, an accomplished musician in his own right, is one of the instructors. Members of Johnny's band, award-winning Randy Elmore (whose former employers have included Reba McIntyre and Mel Tillis) on fiddle and Kenny Frazier (who has been working with Johnny for more than 40 years) on guitar were part of the faculty.
Rounding out the list of instructors were Seattle-area musician Paul Anastasio, who studied under the great jazz violin virtuoso, Joe Venuti, as well as Danny Levin on piano and fiddle. By the end of the week everyone in attendance felt like they were also part of the Gimble "family."
Attendees came from many states and backgrounds. We had doctors, engineers, electricians, carpenters and even professional musicians, including a former symphony director. Some students were as young as seven or eight and a few were in their 60s and 70s, with everything in between. Most of those in attendance were housed dorm-style on campus in little adobe bungalows called casitas, making Swing Week a true "residency program." A typical casita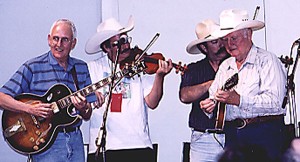 Unlike your typical folk or bluegrass festival, where the emphasis is on performances and "jam sessions" with people just getting together and playing spontaneously, Swing Week's goal is education.
Daily classes were held in music theory, instrument technique (fiddle, guitar, mandolin and bass) and ensemble rehearsals. One of the interesting aspects of Swing Week is that everyone was challenged by the program.
Those with a background in country and bluegrass were suddenly forced to learn things such as how musical chords were formed and what "intervals" were and how these can be used in improvisational techniques. The professional musicians were daunted with having to play "off the cuff" without sheet music.An impromptu jam session
One experienced "violinist" was heard to exclaim "How can I play this if it's not written down!" By the end of the week, though, she was doing just fine as a "fiddle-player."
Lest the stress – and the fun! – became too much for everybody, Cyndy Gimble, who is a fitness instructor when she's not organizing her dad's music camp, offered mid-day stretch classes to help loosen up our tight necks and limbs. Hey, what school curriculum would be complete without a little "Phys. Ed."?
The culmination of the several days of Swing Week was the Saturday night concert, which was open to the public. All 78 students had been divided into one of five ensembles at the beginning of the week and this was their chance to "show their stuff."
Johnny Gimble did an opening set, followed by each of the five groups, who performed four songs each, with a concluding set by Gimble and his band. The audience loved it as did the students. Every student had ample reason to feel proud of their performances and what they had learned.Johnny Gimble plays "Faded Love" under the trees for Swing Weekers
The next morning, Sunday, as folks were packing up and getting ready to get back to "reality," there were hugs and tears aplenty as promises were made between old and new friends to keep in touch and "be back next year."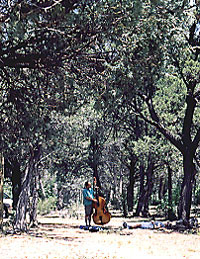 I asked Johnny why he decided to hold Swing Week. In typical good humor he replied "Why not?" Perhaps a more telling answer was given during one of his workshops earlier in the week when Johnny said "A lot of great people came up with this music. It's up to all of you to keep it going."
Thanks to the selflessness of Johnny Gimble, his family and friends; a lot of people will be doing just that. It's obvious Swing Week is a labor of love on the part of everyone involved, faculty and students. The only down-side for me was that my face hurt from grinning so much!
For those of you who think you might want to refine your musical techniques and "jam," Western Swing-style, to "Honeysuckle Rose," "Milk Cow Blues," or "Sweet Georgia Brown," check out Johnny's Web site in the months ahead for information on next year's Swing Week.
Austin Troxell – 7/31/2003
Photos by Austin Troxell