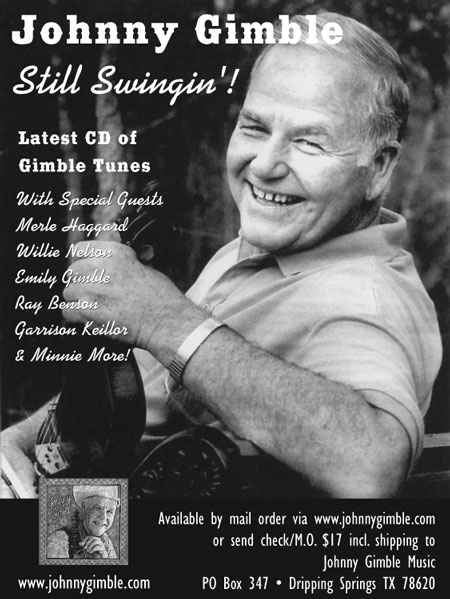 Years ago, CMH Records produced a JG classic, The Texas Fiddle Collection, and now has released the latest Johnny Gimble album.
They call it America's Greatest Fiddler, Celebrating with Friends.
We call it Johnny Gimble  – Still Swingin'! and we thought you might want to be among the first to know!
Inside each CD is a 24 page booklet with stories and photos.
Whether you're pulling out your axe to jam along, or putting on your dancin' shoes, we're sure you'll enjoy all of these recordings – old favorites and some from JG's songbook that you might not have heard.
Still Swingin'
1. Johnny Gimble Reflects
2. Fiddlin' Around featuring Jason Roberts
3. Somewhere South of San Antone featuring Vince Gill
4. Sweet Georgia Brown featuring Merle Haggard
5.Gardenia Waltz featuring Jason Roberts
6. Lady Be Good featuring Willie Nelson
7. I Needed You featuring Dale Watson
8. If I Had You featuring Emily Gimble
9. Rural Riffin'
10. Under the X in Texas featuring Ray Benson
11. Hey Mr. Cowboy featuring Jesse Dayton
12. Mandelopin'
13. Do What You Did, When You Did
14. Owed to Johnny Gimble featuring Garrison Keillor