---
Awards & Applause
"You could just feel the magic.  I don't know what it is.  I don't know if music ever did you
that way. But I thought if somebody gets that big a kick out of my playing, maybe
it's something that's worthwhile to do.  The money, the awards, that junk's nice.
But the magic, that's what keeps you playing. 
That's what never wears off."
-Johnny Gimble
---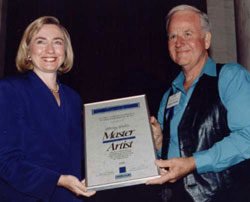 Johnny has been entertaining audiences around the world for over six decades. His infectious enthusiasm for performing has been his trademark all his career.
One of the few giants in the fiddling world, Gimble has performed with many of the biggest names in the recording industry, including Bob Wills, Willie Nelson and Merle Haggard, and has won several Country Music Association Instrumentalist of the Year awards.
He has long been recognized as the leader of his field – his playing has been the most studied of any fiddler in the western swing style. Johnny Gimble's solos reflect a life-long pursuit of improvising, with endless variations that always seem the perfect embodiment of this genre.
More about Johnny on the Press Page.
NATIONAL ENDOWMENT FOR THE ARTS


1994 – National Heritage Fellowship Award
presented by Hilary Clinton in Washington, DC



COUNTRY MUSIC ASSOCIATION  (CMA) AWARDS


1975 – Instrumentalist of the Year
1986 – Instrumentalist of the Year
1987 – Instrumentalist of the Year
1989 – Musician of the Year
1990 – Musician of the Year
ACADEMY OF COUNTRY MUSIC AWARDS


1978 – Fiddler of the Year
1979 – Fiddler of the Year
1980 – Fiddler of the Year
1981 – Fiddler of the Year
1982 – Fiddler of the Year
1983 – Fiddler of the Year
1984 – Fiddler of the Year
1985 – Fiddler of the Year
1987 – Fiddler of the Year
GRAMMY AWARDS


1994 – For his arrangement of "Red Wing" on the Bob Wills tribute album by "Asleep At The Wheel"
1995-Best Country Instrumental Performance for "Hightower" with Asleep At The Wheel
"He hasn't converted me to country music, but what he has done is entrance me with his musical ability and style.  …my jaw hit the floor the first time I saw him play…and it's remained there ever since.  Mr. Gimble first disarms you with his friendly smile, then dazzles ones senses with his professional playing ability.  I've never in my life seen anyone play like he does.  The man is a national treasure, and you as Americans should be very proud.  There's nobody like Johnny."
– a fan from Canada
"Fiddling great Johnny Gimble caught Bob Wills' attention in the 1940's with his mastery of jazz, blues, and breakdowns.  Johnny continues to enthrall audiences with his fabulous fiddling.  Johnny was named a 1994 National Heritage Fellow by the National Endowment for the Arts.  The award cites Gimble's contributions to folk and popular music, although fellow musician Merle Haggard put it more succinctly:  Johnny Gimble is 'the greatest swing fiddler alive today.'"
-John Wheat, music archivist
The Center for American History
The University of Texas at Austin
"…multi-instrumentalist Johnny Gimble has defied categorizing.  To many he represents western swing because of his tenure as fiddler/mandolinist in one of Bob Wills' hottest Texas Playboy lineups.  To others he symbolizes country music as a "fiddle that launched a thousand hits" as one of Nashville's most in-demand
session players for over a decade.  Johnny is also just as much at home playing gospel or blues, slipping down to New Orleans for a hot dixieland jazz session with Pete Fountain or Buddy DeFranco,  or jetting to Minneapolis to play with his friend Chet Atkins on the hit radio show A Prairie home Companion.  …his fiery, melodic fiddle and mandolin style continues to influence musicians of all ages."
-Buddy McPeters
Frets magazine
"Hands down, call-in-the-dogs, the greatest country fiddler and electric mandolinist in the world"
-Austin American Statesman
"Best Fiddle Player.  Johnny Gimble. Incomparable. 'He's the best,' says Willie."
-People  magazine
"…when Johnny Gimble steps to center stage to launch a solo or harmonize  a three-fiddle chorus there are shouts of appreciation and awe…whose playing matched precision with Texas soul."
-Musician magazine
"…best moments come courtesy of the great western-swing fiddler Johnny Gimble: time and again Gimble sails into the stratosphere."
-People magazine
"He was always a consumate musician, and highly respected for his abilities and generosity by fellow musicians."
-Nick Spitzer
artistic director, Folk Masters

"Owed to Johnny Gimble"
There was a fiddler named Gimble
Whose fingers were nimble
To play all the licks and the trills.
He could play Darling Nelly
Or Stephan Grapelli
Or tunes that were old as the hills.
He smiled as he played
Some old serenade
And the music came up from his soul.
You could hear the stars falling
And the whippoorwill calling
Whenever he picked up his bow.
And the shuffling and sliding
Of ghost dancers gliding
On kitchen floors long ago.
-Garrison Keillor
"A Prairie Home Companion"
"He's the most creative fiddle player I have ever heard in my life.  He goes all out on both the melody and the harmony."
– Ray Baker, record producer
"..the music that flows from the instrument is still sweet and happy, just like the personality that flows from the man who plays it.  The reason is  that Johnny Gimble started playing the fiddle because it was fun – for himself and others."
-Bob Banta
Austin American Statesman