May 30, 1926 – May 9, 2015
In lieu of flowers, a contribution to the Health Alliance for Austin Musicians would be most appreciated! http://www.myhaam.org/
Send personal messages & flowers to
Barbara Gimble
Apt #20, 800 Claremont
Marble Falls, TX 78654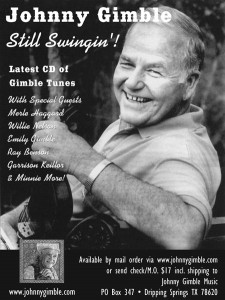 Years ago, CMH Records produced a JG classic, The Texas Fiddle Collection, and now has released the latest Johnny Gimble album. They call it America's Greatest Fiddler, Celebrating with Friends.
We call it Johnny Gimble – Still Swingin'! and we thought you might want to be among the first to know! Inside each CD is a 24 page booklet with stories and photos.
Whether you're pulling out your axe to jam along, or putting on your dancin' shoes, we're sure you'll enjoy all of these recordings — old favorites and some from JG's songbook that you might not have heard.
Recent Press
Johnny Gimble, Who Fiddled His Way to Fame, Dies at 88
Johnny Gimble 1926-2015: The Common Man as Master | Arts+Labor Magazine
Texas Monthly July 2014
NPR's "Fresh Air" 4/8/2010
Wall Street Journal 3/25/2010
American Statesman 2/14/2010
Johnny Gimble
Celebrating With Friends (CMH)
Johnny Gimble is proof that music can keep you young. Affectionately produced by Asleep at the Wheel's Ray Benson, Celebrating With Friends is a straight shot of the hot jazz and Western swing that the fiddle great is known for and, as the title suggests, with an impressive lineup of guests: Willie Nelson, Merle Haggard, Vince Gill, Dale Watson, the Wheel's Jason Roberts, Jesse Dayton, and Garrison Keillor. That doesn't prevent Gimble's granddaughter Emily from nearly stealing the show with a sultry reading of "If I Had You." Watson's smooth rendering of "I Needed You," a song Gimble co-wrote with Bob Wills – Gimble was a Texas Playboy off and on from the 1940s into the 1960s – will have you sighing gratefully.
Excellent musicianship, admirable vocal performances, and judicious song choices make Celebrating an early leader for best traditional country record of the year.
review from Texas Platters by Jim Caligiuri
Austin Chronicle (4 stars!)
February 12, 2010
View complete 1981 documentary
Gimble's Swing at folkstreams.net
---
Swing Week camp is on hiatus, but click here for memories!

Last of the Breed
In a Nashville studio, Johnny lends fiddle to a new double-disc album featuring Merle Haggard, Willie Nelson and Ray Price to be released March 20 on Lost Highway Records.
Titled Last of the Breed, the 22-song set was produced by Fred Foster. The recording sessions also included contributions from the Jordanaires and Johnny's good friend, steel guitarist Buddy Emmons.